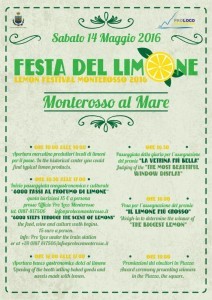 MONTEROSSO LEMON FESTIVAL – MAY 14TH 2016
Next week in Monterosso the predominant color will be definitely the yellow of its lemons. As every year the small town of Cinque Terre is preparing for a festive day with stalls, theme kiosks and food stalls set up in the square and among its "alleyways".
Tourists and locals can taste ligurian specialties produced with organic lemons from Monterosso including jams, cakes, freshly squeezed lemonade, limoncino and soft drinks.
At the end of the day judges will vote the best window display and the biggest lemon.
I look forward to having you as part of my tour for a memorable day in the Cinque Terre!